Hey! Welcome to Thursday Movie Picks where you get to share your movie picks for each topic presented every Thursday! Based on the theme presented each week, you can pick up to 3 to 5 movies and explain why you picked those movies! This meme is being hosted by Wandering through the Shelves!
This week's theme is: Natural Disaster!
YAAASSS! Now we are talking about my favorite movie genre and that's natural disasters! I love watching movies where the characters are running away from a natural disaster and are trying to survive the disaster. Those types of films are pretty fun to watch! So, here are three movies that dealt with natural disasters that I've seen!
Bill and Jo Harding, advanced storm chasers on the brink of divorce, must join together to create an advanced weather alert system by putting themselves in the cross-hairs of extremely violent tornadoes.
I remembered when this movie first came out and I remembered how awed I was with the special effects of the tornado scenes. Also, who could forget that scene where Bill and Jo went to their aunt's house to have some steak and mashed potatoes? Mmmmm...steak and potatoes....yummy!
When the network of satellites designed to control the global climate starts to attack Earth, it's a race against the clock for its creator to uncover the real threat before a worldwide Geostorm wipes out everything and everyone.
Even though the plot of this movie was a bit thin, you have to admit that the storm sequences were awesome and it's one natural disaster film that I definitely don't mind watching over and over again!
3. Armageddon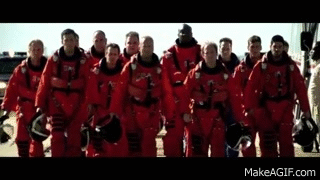 After discovering that an asteroid the size of Texas is going to impact Earth in less than a month, NASA recruits a misfit team of deep-core drillers to save the planet.
You all remembered this movie, right? The movie where a group of astronauts go to space to stop an asteroid from hitting Earth? Yeah, I've seen a lot of sci-fi movies where the astronauts try to stop an asteroid from destroying the Earth, but this movie is probably the most iconic out of all of them!