Hey! Welcome to Thursday Movie Picks where you get to share your movie picks for each topic presented every Thursday! Based on the theme presented each week, you can pick up to 3 to 5 movies and explain why you picked those movies! This meme is being hosted by
Wandering through the Shelves!
This week's theme is: Prequels!
Now to be honest, I rarely watch prequels of various films since they tend to come out after the first movie and I often wondered to myself about why release a prequel of a film after the first movie, when you could have just explained the characters' backstories in the very first movie? Oh well. Anyway, here are some of my favorite prequels that I've seen.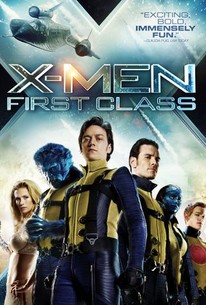 In the 1960s, superpowered humans Charles Xavier and Erik Lensherr work together to find others like them, but Erik's vengeful pursuit of an ambitious mutant who ruined his life causes a schism to divide them.
This was actually one of the few prequels that I actually enjoyed. Heck, this movie was way better than the previous two X-Men movies that came out before it (X-Men Origins: Wolverine and X-Men: The Last Stand). I really liked how they portrayed Xavier and Magneto in this film and how their rivalry got started. I'm glad the second film "Days of Future Past" was as good as the first movie!
A substance designed to help the brain repair itself gives advanced intelligence to a chimpanzee who leads an ape uprising.
Honestly, I have never seen the original "Planet of the Apes" films, so I wasn't 100% sure if this was a prequel to all the "Planet of the Apes" films. But, I really did enjoyed this film and the sequels after this movie were just as good!
An outlaw cat, his childhood egg-friend and a seductive thief kitty set out in search for the eggs of the fabled Golden Goose to clear his name, restore his lost honor and regain the trust of his mother and town.
I really liked Puss in Boots' appearance in "Shrek 2" and I wanted to know more about this character. So, I was beyond excited to see a prequel film made about him and I really enjoyed this movie! It had lots of action and great characterization of Puss in Boots as a character!