Hello everyone! Welcome to "Weird Images from Weird Movies and TV!" Here, I showcase some of the weirdest images I have ever seen in the movies and TV shows that I have watched over the years! There are always images in movies and TV shows that stands out the most to viewers and I'm going to showcase some weird images that really stayed with me and showed me just how weird this movie or TV series can really get!
"Monkeybone" may have not been one of the best movies I had seen, but it did had a lot of awesome and bizarre imagery that I just had to show off. So, here are some bizarre images from "Monkeybone!"
This weird little scene is from the cartoon segment of "Monkeybone" that came from the main character Stu's famous cartoon series "Monkeybone."






Of course, here's Chris Kattan as a living dead corpse that Stu is forced to go into in order to get back into the world of the living when he went into a coma.



And these are the weird denizens of Downtown, the place where Stu goes to after he falls into a coma.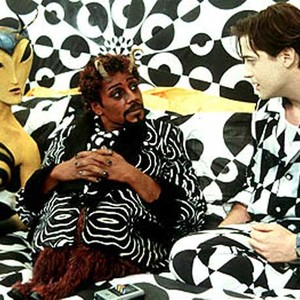 And here's Stu meeting up with Hypnos, the God of Sleep. Just look at how weird Hypnos' room is with all the black and white swirls all over the room!
WEIRDEST IMAGE
Again, it was difficult to choose the weirdest image for this movie since this movie had a lot of weird imagery. I was tempted to choose the weird denizens of Downtown for weirdest image. But the scene where Stu falls into a painting that leads him into his nightmare was probably the weirdest thing to happen in this movie.