Hey! Welcome to Thursday Movie Picks where you get to share your movie picks for each topic presented every Thursday! Based on the theme presented each week, you can pick up to 3 to 5 movies and explain why you picked those movies! This meme is being hosted by Wandering through the Shelves!
This week's theme is: Halloween Edition - Snow / Winter Horror!
So, you are probably wondering just "what kind of horror movies take place during the winter time? I mean, isn't that something reserved for Christmas?" Well, there were a couple of horror movies that actually took place during the winter time or just has snow in its scenes and I will be listing some winter horror movies that interested me!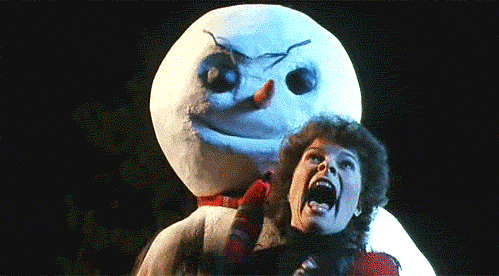 After an accident that left murderer Jack Frost dead in genetic material, the vengeful killer returns as a murderous snowman to exact his revenge on the man who sent him to be executed.
No, this is not the 1998 film that starred Michael Keaton (although that film is easily forgotten about). This is actually the horror movie about a psycho killer turning into a snowman and murdering his victims in that form. Yes, this was actually a pretty ridiculous movie! Snowman killing people...
A family heads to an isolated hotel for the winter where a sinister presence influences the father into violence, while his psychic son sees horrific forebodings from both past and future.
Yes, I know. I've featured this movie so many times at this point. But seriously! This is one of my ABSOLUTE favorite movies of all time! The last half of this film takes place during the winter time and it seriously has one of the best chase scenes in the snow ever made (Jack chasing his son Danny through the hedges)!
A research team in Antarctica is hunted by a shape-shifting alien that assumes the appearance of its victims.
Oh man...I still haven't seen this movie yet...but it's definitely a classic horror film that many people seem to love and what's more horrifying than being stranded in a distant snowy place when a monstrous creature is after you? That's
THE THING
in a nutshell!