Hey! Welcome to Thursday Movie Picks where you get to share your movie picks for each topic presented every Thursday! Based on the theme presented each week, you can pick up to 3 to 5 movies and explain why you picked those movies! This meme is being hosted by Wandering through the Shelves!
Oh yes! Another topic that I'm very familiar with! I love watching mystery themed shows on TV and there's quite a lot of awesome mystery shows out there that I wanted to showcase! So, here are three of my favorite mystery themed shows.
Series inspired by the stories of GK Chesterton; a Catholic priest has a knack for solving mysteries in his English village.
Oh man! This is one of my all-time favorite mystery shows! I just loved the charm and wit of Father Brown himself and the mysteries were all very interesting to watch! I need to find a way to watch this show without paying for another streaming service.
A female sleuth sashays through the back lanes and jazz clubs of Melbourne in the late 1920s, fighting injustice with her pearl-handled pistol and her dagger-sharp wit.
Another British mystery series that I really enjoyed and one that has a very strong and crafty female protagonist! I just loved Miss Fisher's personality in this series and I love the way that she takes action in solving the mysteries.
3. Psych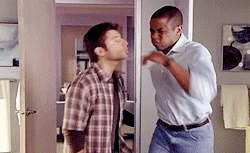 A novice sleuth is hired by the Police after he cons them into thinking he has psychic powers which help solve crimes. With the assistance of his reluctant best friend, the duo take on a series of complicated cases.
This is possibly the most hilarious mystery series I have ever seen! Shawn and Gus are like my favorite TV buddies and the mysteries they get involved in are so exciting!