Hey! Welcome to Thursday Movie Picks where you get to share your movie picks for each topic presented every Thursday! Based on the theme presented each week, you can pick up to 3 to 5 movies and explain why you picked those movies! This meme is being hosted by
Wandering through the Shelves!
This week's theme is: Over a Meal!
This was a bit of a tough one, but I when I looked at the topic of this week's "Thursday Movie Picks," I was thinking back to some of my favorite food / dinner scenes in movies. So, here are some of my favorite dinner scenes from movies!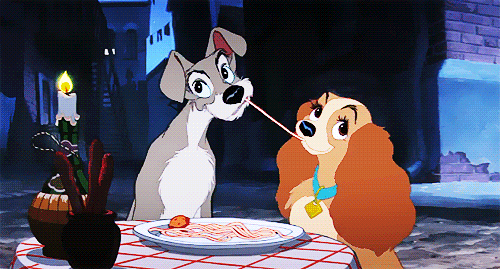 The romantic tale of a sheltered uptown Cocker Spaniel dog and a streetwise downtown Mutt.
Of course, I had to add in one of the most iconic dinner scenes in cinema history! I will admit that this wasn't my favorite Disney movie, but I always loved that romantic dinner scene!
Upon learning of a terminal illness, a shy woman decides to sell off all her possessions and live it up at a posh European hotel.
Oh man! I always loved watching this movie! Queen Latifah was brilliant in this film and this movie had always resonated with me on a personal level. I especially loved the scene where Queen Latifah is having dinner in a fancy restaurant and she orders everything on the menu! I definitely would love to do that at a restaurant someday!
Bill and Jo Harding, advanced storm chasers on the brink of divorce, must join together to create an advanced weather alert system by putting themselves in the cross-hairs of extremely violent tornadoes.
I remembered watching "Twister" a bit when I was little and what I remembered the most from that film (besides the tornado scenes of course) was the scene where the gang are sitting down to a dinner of steak and eggs! I mean, how often do you seen a group of storm chasers sitting down to a delicious meal of steak and eggs?